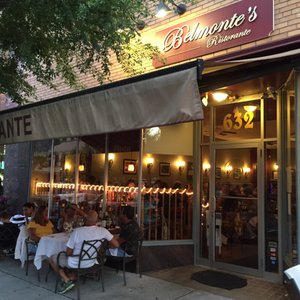 BELMONTE'S ASBURY PARK
Looking for a great Italian meal in happening Asbury Park? Try Belmonte's. Peg and I have been there a number of times over the past three years and have always enjoyed or dining experience. Located in the heart of Asbury's business district at 623 Cookman Ave.
"We offer something that many other places don't – a homey, welcoming atmosphere where the people we serve are our friends, rather than customers," Sean Hart, the owner said. "I think that has contributed to our success a great deal over these 10 years."
Sean started as a server in 2008 and eventually bought the restaurant from the original owner.
I told Sean Hart, the restaurant owner, how much I enjoyed the food, especially the fact that the food always comes out hot. Sean told me that's why he has an open kitchen. The food doesn't sit in the kitchen…it goes right out to the tables.
Better yet. Monday and Thursday are 1/2 price pasta night, but whatever you order, you'll enjoy the experience.
Bring your own wine…enjoy